HOW SANDY CITY WILL OPERATE IN A DISASTER
How a city operates after a disaster is important for all community members to know and understand.
After a disaster strikes, we will likely experience confusion, stress, and fear. Knowing how to plan before a disaster strikes and understanding what government plans are already in place can help alleviate negative experiences.
We can help our minds and attitudes become more resilient during emergencies by minimizing adverse outcomes with knowledge and preparedness.
The city and state have plans to provide essential services to the community after a disaster. For instance, setting up temporary shelters, keeping people away from dangerous areas, and providing medical assistance.
Sandy City will manage the response efforts and recovery from disastrous events. Sandy City also has communication plans to alert and warn citizens of potential threats and what actions to take.
SIGN UP FOR SANDY CITY'S EMERGENCY NOTIFICATIONS AND ALERTS
When an emergency does occur, our local fire and police personnel, emergency medical teams, and rescue workers will quickly respond to damaged areas to provide aid.
The city will also do its best to repair and provide vital services such as water, power, communications, shelter, and medical care. Public utility crews will also begin any restoration of essential services.
This plan sounds great! We can all sit back and rest assured that the city and government agencies will take care of us, right?
Not quite. In a smaller-scale emergency, the city will have the necessary resources and personnel to quickly and efficiently recover.
But what if we experience a large-scale emergency? A disaster that affects numerous cities and thousands of people will take considerably more people and resources to respond to the crisis.
What does this mean for you?
Help and resources will not be readily available, and the recovery efforts will be long-term. In short, you will be on your own for at least the first 96 hours after a disaster. You may be on your own for two weeks or more in a widespread, catastrophic event.
You will have to rely on yourself and work together as a community to help fill in the gaps until local government agencies can respond.
Understand that in a big emergency, EVERYONE will be affected, including emergency personnel, hospitals, and public works employees.
This means that all these specialized individuals will have their own families to look after before they report to work. Many of these employees may not live in Sandy City, and travel may be hindered due to broken roads.
Supplies may take a lot of work to come by and distribute.
HOW SANDY CITY WILL OPERATE IN A DISASTER
Sandy City has an Emergency Manager who will be responsible for setting up and running the Emergency Operating Center (EOC) in the event of an emergency.
The primary Emergency Operating Center will be located in Sandy City Hall at 100000 Centennial Parkway in Sandy.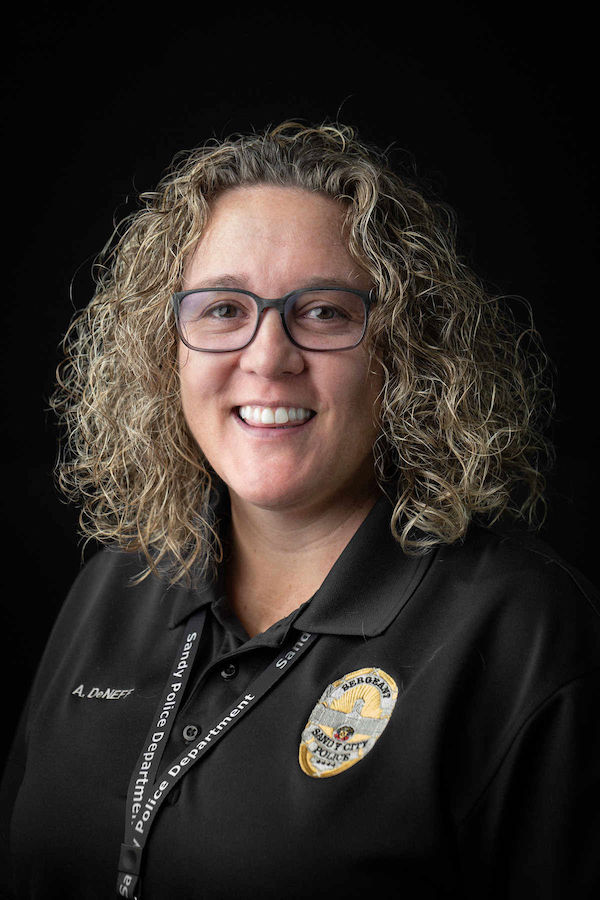 Amy DeNeff – Sandy City Emergency Manager
Phone: 801-568-7185
Email: adeneff@sandy.utah.gov
Sandy city follows the C-FLOP method of crisis management.
The Emergency Manager will coordinate the emergency operation and facilitate an action plan overseeing the following functions:
Finance, Logistics, Operations, Planning
Finance: Monitors incident related costs. Provides overall fiscal guidance.
Logistics: Provides resources and services needed to support the incident.
Operational: Develops tactical organization and directs all resources to carry out the action plan
Planning: Develops the action plan to accomplish the directives.
Emergency Operations Center (EOC)
The Sandy City Emergency Manager (Amy DeNeff) will be stationed at the EOC
The EOC will be located at the Sandy City Hall Building
10000 Centennial Parkway
If this building is unsafe or unable to house the EOC, the contingency plan is to operate out of an alternative site.
First contingency: Public Utilities Building (East Sandy)
9150 South 150 East
Second contingency: Public Works Building (West Sandy)
8775 South 700 West
It will take time for Sandy City to get an Emergency Operations Center up and running.
If Sandy City Needs More Help
If the EOC Manager declares that the city's needs outweigh the city's resources, Sandy City can declare a state of emergency with Salt Lake County.
If Salt Lake County determines that the needs outweigh its resources, it will declare a state of emergency with the state of Utah.
Once the state of Utah has exhausted its resources, it will declare a state of emergency with the Federal Government.
Note: All our resources don't actually have to be spent to declare an emergency. For example, in a large-scale earthquake, a state of emergency would immediately be declared.
GOOD FOR ALL CITIZENS TO KNOW
Once you have a basic understanding of how the city works and operates, you can understand the magnitude of their job after an emergency and why resources will be spread so thin.
Sandy City has:
34 schools
One hospital
400 miles of road
400 miles of water pipe
Eight water tanks
Approximately 100,000 residents
Five Fire Stations
Do you know the locations and where the closest is to you?
Four firefighters at each station
Approximately 75 fire personnel
Seven fire trucks
Seven ambulances
Sandy City Police Department
Eight officers on each patrol shift
Approximately 110 sworn officers
The good news is that FEMA is usually on scene within 48 hours after a disaster. The bad news is, transporting goods and services will take time and effort.
HOW SANDY COMMUNITY 27 AND NEIGHBORHOOD EMERGENCY PREPAREDNESS LEADERS HELP
Sandy City consists of 30 communities. There is not a city-wide plan for each of these communities. Each community has a unique situation and what works well in one community may not work well in another.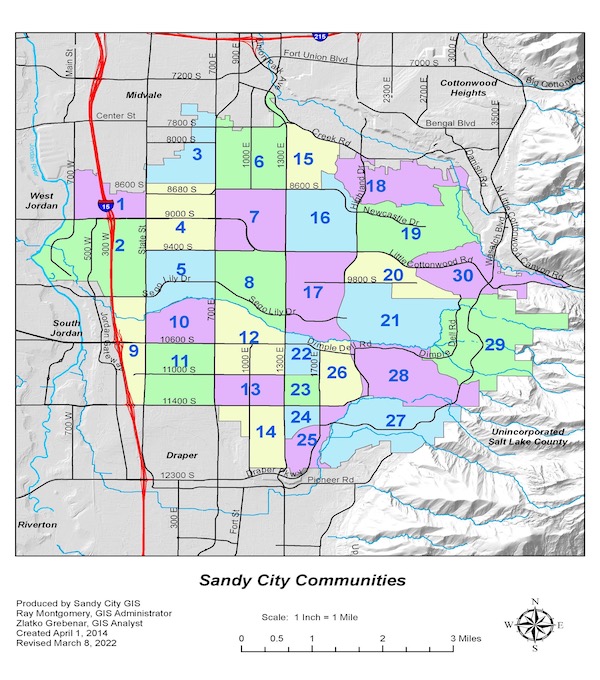 Ideally, each community will have two Emergency Preparedness Leaders (EPL).
These EPL volunteers will attend monthly meetings at Sandy City, be CERT certified, know the areas of concern in their community, and help their community prepare for the potential scenarios they may encounter.
Some areas of concern in Sandy City:
Wildland fires
Liquefaction susceptibility in historic Sandy and along the Jordan riverbed
Earthquake every 350 years; we are at 362 years
Unrefined masonry in Salt Lake will be liquefied
East bench Sandy is on bedrock
SITUATIONAL AWARENESS
Once Sandy City is made aware of all situations within the city, the sooner they can request resources.
Having one point of contact (EPL) for each community will provide concise and vetted information.
Sandy City will want the following information from each community:
The number of individuals injured
The number of deceased individuals
The number of homes that are damaged
The immediate needs of the community
The state of the community
WHAT CAN YOU DO?
Get your family and yourself as prepared and self-reliant as possible.
Attend BeReadySandy emergency meetings every third Wednesday at 6:00 p.m.
Attend classes and trainings that are provided by the community
Be prepared to assist your neighbors after a disaster
Report and communicate with emergency leaders
Know your community plan and be willing to volunteer
Familiarize yourself with Sandy City's Emergency Management page.
Complete Community Emergency Response Training (CERT)
You can find the Sandy Community 27 Emergency Plan here.