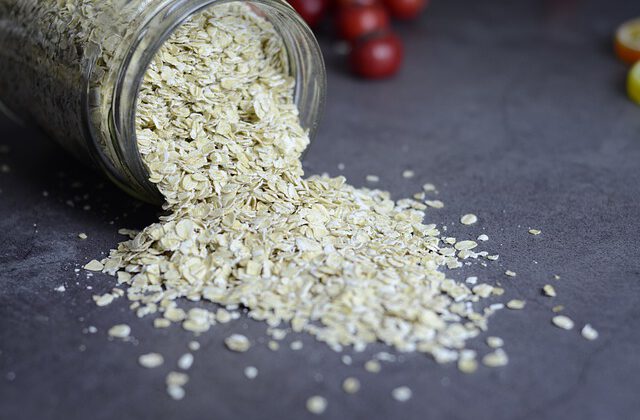 Oats and cornmeal are essential pantry staples that provide great vitamins and minerals but are also very versatile. Storing healthy grains will provide the extra calories needed in emergency situations and help keep your family healthy.
OATS
Oats are one of the healthiest grains on earth and a great source of vitamins and minerals. As a healthy and nutritious carbohydrate, oats are an excellent food item for food storage.
With the proper storage, oats can store for 25 years or more! These types of oats include:
Steel-cut oats
Rolled oats (whole or old-fashioned oats)
Instants Oats
Oat Flour
Why do oats go bad?
PANTRY BUGS
Oats can become infested with bugs and pantry moths.
The eggs of insects can already be in your oats when you purchase them, and they can take weeks to hatch into larvae.
If you buy a bag of oats and throw it in your panty, you might find bugs when you open it. Even worse, those bugs can spread to your other foods.
How to prevent pantry pests
Freeze the oats before storage. Placing your oats in the freezer for 3 – 5 days will kill the bugs.
Remove from freezer and let sit at room temperature to prevent condensation.
Move to an airtight storage container.
Place oxygen absorber in container and seal.
Insects and their eggs require oxygen to survive. So if anything escapes the freezing process, the oxygen absorber will finish them off.
MOLD
Oats absorb moisture from the air and can start to grow mold if they absorb too much moisture. Be careful not to store your foods in a high humidity area or leave them open to the environment.
Store your oats in a cool, dry place.
OXIDATION
The nutrition in oats can start to deteriorate when they are exposed to air long enough. Store your oats in an airtight container that is easy to reseal after each use.
SMELL
Oats absorb the smells that are around them. For short-term storage (you use your oats regularly) remove from the original container and store in an airtight food-grade container. This will keep your oats fresh for 12 – 24 months and help prevent pantry bugs.
BOTTOM LINE
The best way to store oats is in an airtight container in a cool, dry area.
You can also store oats indefinitely in the freezer.
Oats will last 6 to 24 months in the pantry.
Unopened oats stored with oxygen absorbers and airtight packaging will last indefinitely. (Oat flour = ten years.)
NOTE:
Oat bran has many natural oils, so they will go rancid after time even if stored with oxygen absorbers. Long-term storage of oat bran is not recommended.
Oatmeal packets usually contain ingredients other than pure oats, like flavoring or powdered milk. Oatmeal packets typically have the same shelf life as powdered milk.
CORNMEAL
Another staple food to have in your food storage is cornmeal. Rich in carbohydrates and vitamins, cornmeal is a wonderful, energy-providing food.
There are two types of cornmeal:
Bolted
Unbolted
Bolted cornmeal has the husk and germ removed, the parts with the highest concentration of oils. This improves the shelf life of the cornmeal because these oils can become rancid, causing the cornmeal to spoil.
Unbolted cornmeal is healthier because it contains the husk and germ but lasts only around six months.
EXTENDING THE SHELF LIFE OF CORNMEAL
Cornmeal can potentially already have weevils or eggs in the bag when you purchase.
It is important to note that while it may be gross to have weevils in your food, they won't hurt you and when cooked, they are safe to eat.
PREVENT WEEVILS
You can freeze cornmeal for a few days to kill off the bugs, but it is crucial to keep condensation away from cornmeal. Once you pull it out of the freezer, let it sit at room temperature for a couple of days before moving to an airtight container with an oxygen absorber.
WARNING
WARNING ABOUT BOTULISM: The moisture content of stored foods should be about 10 percent or less. Botulism poisoning may occur when moist products are stored in reduced oxygen packaging.
Botulism is an exception to the rule.
Most bacteria need oxygen to survive. Botulism does not. However, botulism does require moisture to survive.
You cannot see, smell, or taste botulism, but if any food containers are:
Leaking
Damaged, cracked, or abnormal
Spurts liquid or foam when opened
Have discolored food, is moldy, or smells bad
It is safer to throw it out.
It may be better to skip the freezing step and go right to moving the contents into an airtight container with an oxygen absorber.
Most recipes call for one cup of cornmeal, so you could also package the cornmeal in individual servings and store it in the freezer.
Visit the University of Missouri Extension to read more about using and storing cornmeal and recipes with cornmeal.
CLICK HERE FOR PRINTABLE CORNMEAL RECIPES:
Cornmeal mush
Spoonbread
Cornbread
Cornmeal muffins
Cheese cornbread
Cornmeal gingerbread
Cornmeal pancakes
Mexican meatloaf