STEP THREE – EXTEND YOUR FOOD STORAGE TO ONE YEAR
Long-term food storage and Emergency Preparedness helps a family be self-reliant during tough times and emergencies. Proper food storage can help you feel confident and prepared and even help a family feel comforted in times of crisis.
Why do we need to have short-term AND long-term food storage?
Short-term food storage consists of items you can buy at the grocery store and use every day. They usually expire within one to three years. It is crucial to rotate your short-term storage to prevent waste and spoilage.
Short-term food storage is meant to provide your family with food and water during a short-term emergency or crisis.
Some unexpected problems could be job loss, financial difficulties, food shortages, natural disasters, or a shelter-in-place situation.
Some food items are simply not capable of long-term storage, like fresh fruits and vegetables (even frozen and canned should be used within a year), flour, milk, eggs, butter, and sauces. This is where the long-term storage will be beneficial.
Why would you need long-term food storage?
We are very fortunate to live in the United States of America, where we have programs and church groups that are always willing and ready to help their neighbors when a disaster strikes.
But what if a disaster strikes nationwide? The recent pandemic reminds us what can happen when a global problem occurs. Recessions and depressions are thankfully not typical, but they are something we should be prepared for.
If a large natural disaster occurs in your area or a nationwide emergency is declared, food shortages are likely. Power may be lost for extended periods of time (refrigerated and frozen food will go bad quickly), and stores could not function. Road damage and closures may prevent food distribution and your ability to travel.
Are these scenarios meant to scare you? Of course not. They are intended to prepare you.
"If Ye Are Prepared Ye Shall Not Fear"
One aspect of being prepared for emergencies is with long-term food storage.
Long-term food storage will supplement your short-term storage.
Long-term food storage will usually consist of freeze-dried and dehydrated foods that are specifically packaged for long-term storage, such as in #10 cans or foil packages with oxygen absorbers.
Items stored correctly in cool dark areas, away from moisture and heat, and in rodent and insect-proof containers can last up to 30 years.
Consider these items with a very long shelf life when packaged and stored correctly.
Some items that can be purchased from the grocery store and repackaged for long term storage are:
---
White Rice
Sugar
Baking Powder
Salt

Honey
Dry Beans
Baking Soda
Bouillon Products

It is important to repackage store bought items for long term storage. The bottom line is to transfer the items to food grade storage containers that are insect proof with a good seal. You want to keep out oxygen with oxygen absorbers or with a vacuum seal.
Check out the article from the Provident Prepper and this one from Utah State University Extension. You can also check check out our Food Storage Tips for specific information on foods.
Purchasing food items that have already been packaged into #10 cans is more convenient, and precautions have already been taken to extend shelf life.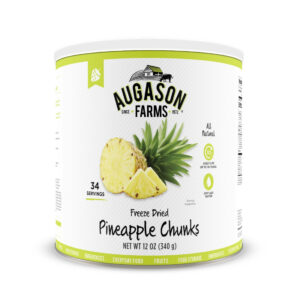 Some retailers that sell long-term food storage are (click on the link to visit their site):
These stores offer #10 cans of powdered butter, honey, milk, eggs, and shortening. Flour, sugar, dehydrated fruits and vegetables, honey crystals, bread mix, and wheat are also available. Providing you with all the necessary ingredients to cook and bake like you usually would.
Some suggested Items to purchase for extended storage in #10 cans.
| | | | |
| --- | --- | --- | --- |
| Dehydrated potatoes | Pancake mix | Beans (white, pinto, black) | Tomato powder |
| Vegetables (carrots, peas, beans, peppers, onions) | Wheat (hard white, hard red) | Freeze-dried beef | Cheese blend powder |
| Fruit (apples, blueberries, bananas) | Bread mix | Freeze-dried chicken | Powder milk |
| Cocoa mix | Pasta | White rice | Powdered butter |
| Fruit drink mix | Oats | Sugar | Powdered shortening |
| Chocolate milk mix | Scrambled egg mix | Flour | Powdered eggs |
| Peanut butter powder | Garden Seeds | Soup mixes | Powdered honey |
LONG-TERM FOOD STORAGE PREPACKAGED MEALS – JUST ADD WATER
Many different retailers sell emergency food. Some are prepackaged and ready to eat with added water; others will require much preparation. Both types will be beneficial to your food storage.
You will probably want to purchase different items from different stores. For example, these stores offer complete meals that just need water (click to visit their site):
Food items like chili, soups, pasta, rice bowls, cheesy macaroni, cereal, granola, and more.
You can also find freeze-dried beef and chicken and emergency ration bars.
Many of these stores also have garden seeds that will last up to 10 years.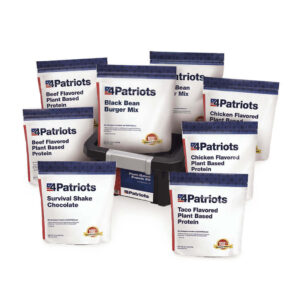 Are you wondering who has the best tasting food? Which brand last the longest? The Spruce Eats website did an independent research and test of survival food kits. You can check out their findings here.
SPICES and HERBS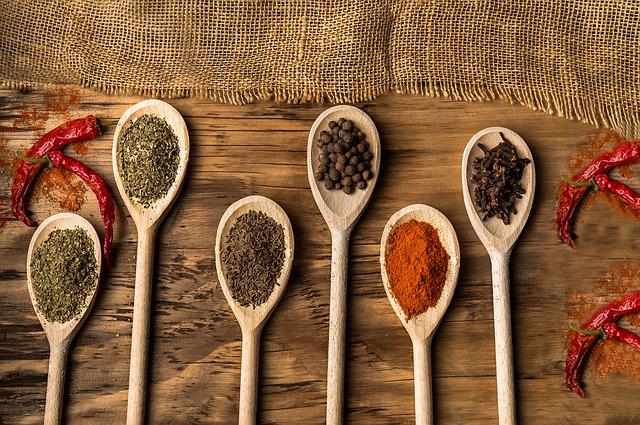 Don't forget to add spices and herbs to your long-term food storage. Store them unopened in a dark, cool place.
Dried whole spices can last up to five years.
Ground spices and herbs can last up to three years.
Some spices to consider:
Bay leaves – add flavor to soups and stews
Peppercorn – will last indefinitely
Chili Powder – anti-inflammatory
Cinnamon – lowers blood sugar levels and anti-diabetic effect
Cayenne Red Pepper and Crushed Red Pepper – aid stomach digestion
Cumin – beneficial for aiding digestion and diabetes prevention
Ginger – aids with nausea and stomach aches
Onion – antioxidant and reduces cholesterol
Oregano – antibacterial agent
Mustard Powder – soothes colds and coughs
Rosemary – antibacterial, antiviral, and antifungal properties
Thyme – anti-inflammatory and antimicrobial
Turmeric – anti-inflammatory
Once you open the spice container, try giving it a smell. If there is no fragrance, the spice probably does not have potency or flavor remaining.
If you would like to know more about the health benefits of herbs and spices, check out this book by Lee Anne Dobbins.
and Herbal Antibiotics by Stephen Harrod Buhner.
So now that you know WHERE to purchase long-term food storage, the question is now HOW MUCH should you purchase?
Many of these sites will sell you a one-year food storage package for one person at 2,000 calories per day. These can range from $3,000 to $7,000 so choose wisely!
HOW MUCH LONG-TERM EMERGENCY FOOD SHOULD YOU STORE?
A general rule of thumb is each person should have a minimum of 2,000 calories per day. That equals about 60,800 calories per month and 730,000 calories per person per year.
If the emergency situation requires you to be very active, your body will need more calories. A larger man will need more calories than a more petite woman, so keep your family members in mind when preparing.
Furthermore, in a worst-case scenario (you are living off of your food storage for an extended period of time), chances are you will get REALLY tired of meals that are ready to eat. So as you are preparing, you will want to think of meals that you can make from the #10 items you have—for instance, fresh bread, cookies, muffins, soups, tacos, etc.
BYU has a great list from their Department of Nutrition, Dietetics and Food Science with the exact amount you should have on hand.
WATER STORAGE
You will also want to increase your water storage. Most of these survival foods need water. Instead of the one gallon of water per person per day, consider storing three gallons of water per person per day at a minimum.
ROTATE YOUR LONG-TERM FOOD STORAGE!
You will still want to rotate your long-term food storage, you just won't have to do it as often. Take a Sharpie and write the expiration date on the front of each #10 can. Pay attention to when you are within a year or two of that day and start using the cans. It is not as hard as you might think.
Also, don't immediately throw out food based on the expiration date. Many canned and packaged foods (if low acid levels) are good well beyond their expiration date. However, always err on the safe side, and when in doubt, throw it out.
The Provident Prepper wrote a great article about food storage titled, "How Old is Too Old?" and is worth reading.
HOW DO I ROTATE LONG-TERM FOOD STORAGE?
If you don't usually grind your own wheat, make bread from scratch, or soak your black beans overnight, this may not be easy for you… at first!
The beauty of #10 cans is they are manageable enough that you can open one and use it up! Take a Saturday and experiment with a wheat grinder and bread making.
Keep an eye on your powdered milk and eggs. Make a batch of milk and use it for baking. Try using a scrambled egg mix for your next brunch.
Try soaking some black beans and use them for your next taco night.
Please take note that once you open these cans or packages, you will want to use them within a month or so of opening.
ROTATE OR DONATE YOUR LONG-TERM FOOD STORAGE!
Don't let all that food go to waste! If you don't have the time or desire to rotate your food storage, donate it to a food bank. Watch the expiration dates and take the extra food to your local food bank before it expires.
You can also ask your neighbors, friends, and family if they would like to take the food storage off your hands.
LOCAL, FEDERAL, AND STATE AGENCY INFORMATION
Check out these websites from federal and state agencies. There are informative printables on food and water storage in an emergency. It also has helpful tips on how long food last and steps to take if the power does go out. Water filtration, cooking without power, and disaster supply kits are also covered.
---
Consider non-food items
---
SPECIALTY ITEMS FOR LONG-TERM FOOD STORAGE
Your family may have special needs such as baby formula, diabetic friendly foods, and gluten-free.
Of course, you don't want to forget the pet food! Check out these items from 4Patriots.com.
Consider adding a survival seed vault to your storage. These seeds can last five years or more when stored correctly.
This is a great article by the Gardening Channel about seed vaults and why you want them.
The Seed Armory also has a great selection of survival garden seeds with a long shelf life.
WHAT'S NEXT?
Congratulations! You have completed Step Three! By now you have one years worth of food storage and an impressive supply of fresh water. Look how awesome you are!!
Now it is time to move on to Step Four – long-term water and filtration