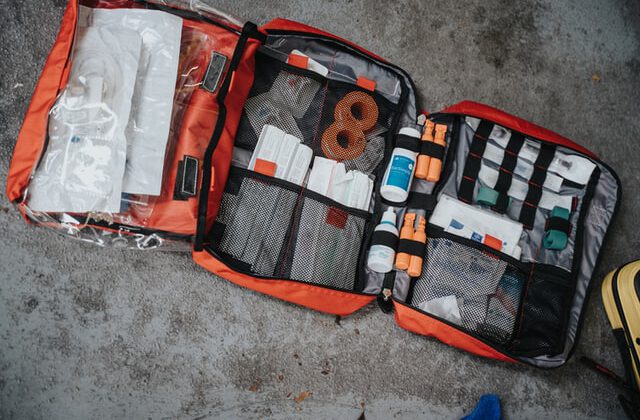 What is the purpose of an emergency 72-hour kit?
Suppose you and your family need to evacuate your home due to an emergency. In that case, you should have an emergency 72-hour (or 96-hour) emergency kit ready.
Why should I consider a 96-hour kit?
Unfortunately, most emergencies will last more than three days. You may also come across other people that need to help if you are willing.
What should be in the 72-Hour emergency kit?
Your 72-hour kits will consist of essential items that you may need for 3-4 days without outside help.
A scenario that can help you understand the need for a 72-hour kit is this:
Some event has occurred (an earthquake or EMP attack) that requires you to leave your home for whatever the reason, and you will probably have to do so on foot.
You may have to sleep outdoors or in an emergency shelter.
Food and water could be scarce.
Emergency and medical personnel are not available or accessible.
An emergency 72-hour kit should contain enough food, water, and essential supplies to get you through the first 72-hours after an emergency.
In addition to food and water, you should have clothing, blankets, shelter (tent), first aid supplies, toiletries, cash, copies of essential documents, a flashlight, cooking supplies (camping), and medications.
Please click here for a checklist of what should be in your 72-hour kit.
A 72-hour kit would resemble a weekend backpacking trip in the backcountry, i.e., prepare for the worst but hope for the best.
Each member of the family should have their own kit and be able to carry it. If able, they should also pack their emergency kit to be familiar with the items and where they are located in the pack.
Some items can be divided among family members. For example, the strongest family member might carry the tent and cooking supplies since not every pack will need these items.
NOTE: The process of organizing and packing a 72-hour can be overwhelming. DO NOT let that stop you from getting started. Our printable PDF breaks the process into sections. You can do this!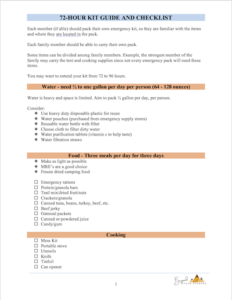 Here is a quick breakdown of what you might want to include in your pack.
WATER/FILTRATION
---
Water is essential and one of the most important things you will need. You will need to carry fresh drinking water, but also have a way to collect and filter water from lakes/streams.
You will need one gallon per day per person per day.
It is unrealistic to think that the average person will by physically able to carry a 72-hour kit that contains three gallons of water. So what do you do?
Try to pack at least 1/2 gallon of water per person per day.
Have items that will help purify and filter other water sources.
Choose heavy duty plastic bottles that can be reused.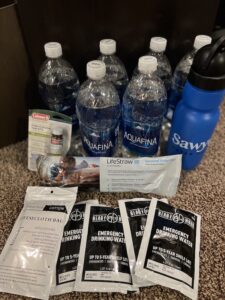 ---
ITEMS TO CONSIDER FOR EMERGENCY 72-HOUR KIT:
You may also want to consider having supplies to boil water and a cotton cloth, cheesecloth, or bandana to filter debris from water before filtering/purifying.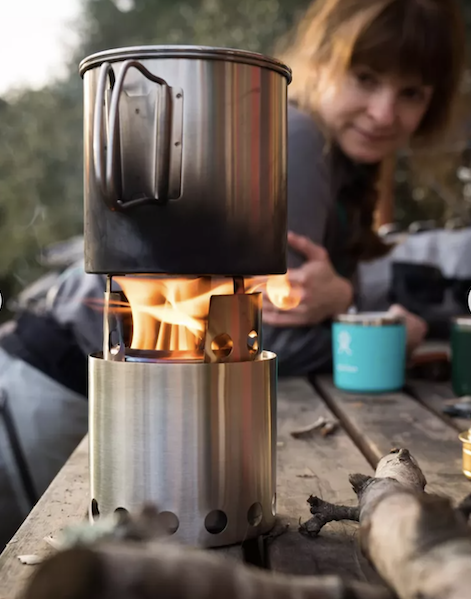 ADDITIONAL INFORMATION
Check out this article on how to filter water.
Check out this article on how to purify water.
FOOD/COOKING SUPPLIES
Pack enough food for three meals for three days for each family member.
You will want to keep your pack as light as possible. Adding a bunch of canned food to your pack is a sure way to make it too heavy.
MRE's are a good choice and can be purchased through emergency supply stores such as My Patriot Supply.
Emergency food (MRE's) will have a longer shelf life than packaged granola bars and oatmeal.
Snacks are a quick way to get energy until the next meal.
TIP: Pack these items in a Ziplock bag that can easily be removed and replaced every 6-months. This way you won't waste food and you don't need to repack every item.
Food Items Ideas FOR EMERGENCY 72-HOUR KIT
Camping Meals
MRE's
Protein and granola bars
Trail mix, dried fruit, and nuts
Beef jerky
Oatmeal packets
Ration bars or cubes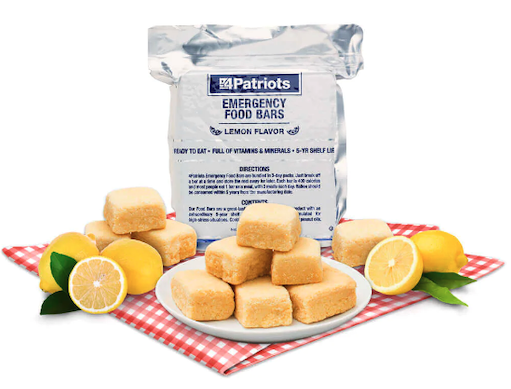 Pack your food and snacks in Ziplock bags to keep organized and extend freshness.
MESS KITS
Camping food and MRE's will most likely require hot water or a heating source. Make sure you have a mess kit that will provide the cooking and utensils.
BEDDING AND SHELTER
If your home is unsafe to reside in, or you need to leave the area, you may be forced to sleep outside.
Consider what happened after Hurricane Katrina in New Orleans. Many residents took shelter in the Superdome, and others lived in the city streets. With high temperatures, limited supplies, no power, and unprepared government officials, the people quickly realized their predicament.
It is important to learn from past situations and think about what you would have done in that situation. Ask yourself how you would have prepared.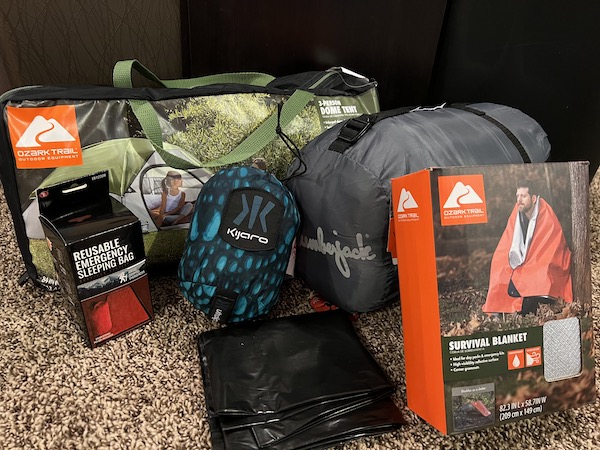 If you needed to sleep in a park or outside, you would want:
A tent or shelter that could accommodate your entire family
Emergency blankets
Sleeping bag
Tarp/large garbage bags to keep moisture away
Rope to secure tarp and tent
Inflatable pillow
You may be thinking that your pack is now getting bigger and heavier. You are right! Here are some small, lightweight options.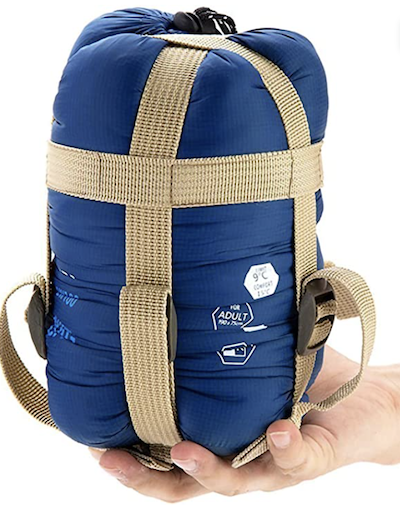 For adult packs you may want to attach tents and sleeping bags to the outside of your backpack.
CLOTHING/WARMTH
Survival clothing that will keep you warm and dry is what you want to focus on. You can probably wear the same pair of jeans for three days, but you will want to change your underwear and socks. Thankfully, these are small, lightweight items that we can afford to include.
You may not have room for three extra sets of clothes, but you will want to have:
Change of clothing
Layers: short and long-sleeved shirt
Packable jacket or coat
Extra undergarments and socks
Raincoat or poncho
Hat and knit cap for warmth and shade
Belt
Bandana (filter, mask, sweat, keeping cool, etc.)
If you are packing for winter/cold weather climates:
Gloves
Base layers
Baklava
Wool socks
Rain gear
Make sure you have on good, sturdy hiking or athletic shoes before you leave with your 72-hour kit. If you are leaving in cold winter, have all of your outdoor gear in the same spot for easy access. Put on your snow boots, hat, gloves, etc. before you leave.
PERSONAL SUPPLIES AND TOILETRIES
Roll of toilet paper
Feminine hygiene
Toothbrush, toothpaste, and dental floss
Hand towel
Deodorant
Soap
Shampoo
Razor
Sunscreen
Bug spray
Nail Clippers
Extra contacts/solution
Prescription glasses
Chapstick
Lotion
Cleansing wipes/moist towelettes
EQUIPMENT/TOOLS
My Patriot Supply has a great list of items that are perfect for 72-hour kits.
ITEMS
Folding camp stoves
Folding shovel
Pocket knife
Multi-tool
Paracord/Rope
Camp ax
Duct tape
Whistle
Mirror (signal)
Compass
Work gloves
Scissors
Bungee cords
Zip ties
Commando saw
FUEL AND LIGHT/COMMUNICATION AND POWER
You will want to include items that will allow you to start a campfire quickly and provide light.
Multi-use devices can provide light, power, and communication
Radio (solar/hand crank/batteries. Can use a charging station)
Walkie-Talkies
Ham Radio
Extra batteries
Battery holder (do not store batteries in device)
Pen and Paper
Sharpie
Battery lighting (flashlights, lamps, etc.)
Solar lighting (flashlight and lanterns that can be used as charging station)
Charging cords
LED headlamp
Glow sticks
Flares
Candles
Fire starters
Waterproof case to hold fire starters
Waterproof matches
Lighter
Flint
Magnesium fire starter
WHERE TO PURCHASE?
Click on each item below to purchase these emergency supplies:
You can also find these types of items at military surplus stores.
CLICk TO VIEW – GENERAL ARMY NAVY OUTDOOR STORE
MEDICATION AND FIRST AID SUPPLIES
A good first aid kit will include:
Medication
Prescription Medications
Tylenol
Ibuprofen
Cold Medication
Benadryl/Allergy
Dramamine
Tums
Anti-diarrheal
Laxative
Anti-itch cream/sting relief pads
Hydration packs/salt tablets
Glucose packs
Vitamins
First Aid
Neosporin
Alcohol wipes
Hand sanitizer
Band-Aids
Mole skin
Gauze pad and roll
Splints
Ace/compression bandage
Bleed stop
Instant ice pack
Latex gloves
Face mask
Scissors
Tweezers
Safety pins
Medical tape
COPIES OF PERSONAL DOCUMENTS AND MONEY
Placing these items in a water-resistant bag will help protect them.
Legal documents could include copies of birth and marriage certificates, passports, driver's licenses, insurance policies, and will/trust.
Cash and coins in small denominations
Credit card
Paper map
Pictures of family (if get separated)
Emergency phone numbers and contact info
WHAT SHOULD I PACK MY 72-HOUR KIT IN?
TYPE OF PACK AND HOW TO ORGANIZE
Make sure you are choosing the right backpack and placing each item in the correct spot. This will help protect your back and avoid injury.
A backpack with straps and a carry handle is an excellent choice for a 72-hour kit. A good, sturdy tactical backpack or hiking backpack is a great option for adults.
Look for a pack with compression straps for sleeping bags, outside attachments for a tent, zippered compartments to keep everything organized, waist and sternum straps, a grab handle, and a hydration compartment.
READ THIS HOW TO PACK YOUR BACKPACK ARTICLE
ALTERNATIVES TO BACKPACKS
Some people may not be able to carry a backpack, or would like the option of carrying and rolling their 72-hour kit. Here are some alternatives:
The wheels should be large and sturdy. You could also consider using a rolling case in addition to a smaller backpack.
Update your 72-hour kit every six months. You want to:
Make sure that all food, water, and medication are fresh and have not expired
Clothing fits and is seasonally appropriate
Personal documents and credit cards are up to date
Batteries are fresh
External chargers are charged and still work
Store your emergency kits in a cool and dry place that is easily accessible.
tips/considerations
Backpack/Bag(s) to put 72-hour kit items in. (Make sure you can lift/carry it!)

Consider bags that roll
Consider purchasing an external rolling device for backpack

Infant needs (if applicable) diapers, formula, baby food, wipes etc.
Large tarp & duct tape could create a shelter anywhere
Sleeping bag if possible
Scriptures/religious items
Playing cards
Keep everything organized with Ziplock and mesh bags
Bags can be reused for other purposes (wet clothes, leftover food, etc.)
Mark each bag with a list of enclosed items
Mark dates on each item/Ziplock bag to help with rotation
Package items so they make sense

Keep toiletries in one bag, etc.

Put name on each backpack with baggage tag/duct tape

Chances are you won't use these every day. This will help everyone know whose backpack/kit it is.
Special considerations
Elderly
A 72-hour kit for someone who is older or with any special needs should be able to carry their own pack.
If this is not possible, you may want to pack their kit in a small rolling duffel bag that can convert to a cross-body duffel.
Children
If you have small children, their pack should fit what they can carry.
As the parent, you will need to pack all the gear that small children or infants will need.
Formula, cloth diapers and pins, bottles, pacifiers, children's medication, baby food, etc.
Sling to carry child
Jogging stroller for moving through difficult terrain by foot.
PETS
You should be ready to evacuate your family AND pets at a moments notice. Have a 72-hour kit ready for your animal:
Pet carrier
Leash
Harness (also for cats to keep from running away)
Muzzle (animals may become frightened in an emergency situation)
Food
Water and food bowl (collapsible)
Poop bags
Paw booties
Coat
Covering/blanket for pet carrier and warmth