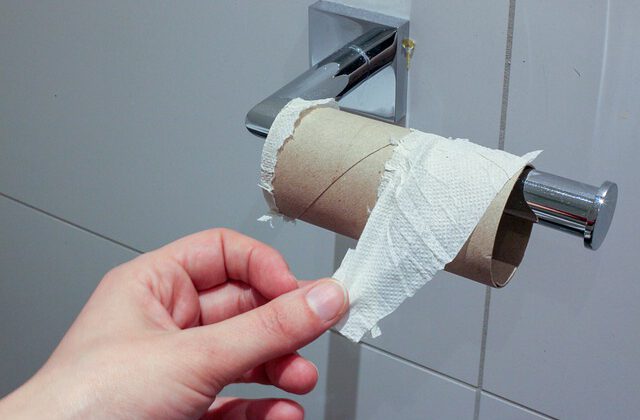 GETTING RID OF HUMAN WASTE SAFELY
When it comes to emergency preparedness, food and water are on the top of everyone's list. Another equally important and overlooked area is sanitation, waste, and hygiene. It is vital that we prepare for our sanitation and waste needs during a disaster.
Wait, what?
Yep, poop, garbage, and cleanliness are critical topics during emergency planning. In fact, your very survival may depend on it.
Did you know that after the 2010 earthquake in Haiti, the first modern large-scale outbreak of cholera occurred? Cholera is a disease not seen very often because of modern sanitation practices. Yet, after the earthquake, 800,000 people were infected, and 9,000 ultimately died.
Yemen also had a large cholera outbreak in 2016 during an ongoing civil war. The directors of UNICEF and WHO stated: "This deadly cholera outbreak is the direct consequence of two years of heavy conflict. Collapsing health, water, and sanitation systems have cut off 14.5 million people from regular access to clean water and sanitation, increasing the ability of the disease to spread. Rising rates of malnutrition have weakened children's health and made them more vulnerable to disease."
Now ask yourself, could something like this happen in America? In your state or town?
Absolutely. Our water and sewage systems can become compromised in a large-scale catastrophe, such as an earthquake.
Why? Because wastewater and utilities have inherent vulnerabilities. The system and pipes are buried underground, so anytime the ground moves i.e., earthquake, there are thousands of connections under the ground that could break. This would result in no running water and no flushing toilets.
Earthquakes can also cause liquefaction.
Liquefaction occurs when loosely packed, water-logged sediments at or near the ground surface lose their strength in response to strong ground shaking.
Liquefaction occurring beneath buildings and other structures can cause major damage during earthquakes. For example, the 1964 Niigata earthquake caused widespread liquefaction which destroyed many buildings.
Liquefaction also caused major damage during the 1989 California earthquake.
How long will it take to get everything fixed?
Good question. Let's take Salt Lake City, Utah, as an example. If Salt Lake were to experience a 7.0 earthquake along the Wasatch fault zone, we would experience:
2,000 – 2,500 fatalities; 7,400 – 9,300 life-threatening injuries.
84,000 displaced families.
Disruption of lifelines. Water, electricity, gas, and sewer utilities would be impacted or unavailable for days to months following an earthquake.
An economic loss of $52 billion.
Aftershocks would continue to occur for days, weeks, or even months after the mainshock. Aftershocks could further damage already weakened infrastructure and buildings.
Utility providers, medical and emergency personnel, and government agencies will be overwhelmed. With only a handful of people capable and trained at fixing utility problems, it will take a long time to repair the power, water, and sewage systems.
Furthermore, it is not only earthquakes than can cause water and sanitation issues. Landslides, flooding, long-term power outage, cyber-attacks on utility systems, and contamination are other possibilities.
So why did Haiti suffer from cholera so severely after the 2010 earthquake? WHO discovered that the cholera outbreak was caused by a shelter disposing of their waste improperly.
Cholera is highly contagious. Over one million people got sick after the earthquake because of poor sanitation conditions. 300,000 people were taking up hospital beds due to cholera infections.
Haiti is a third-world country, and its population deals with dirty water daily. They regularly purify their own water, yet they still got very sick. Americans don't have the knowledge or skills to deal with this as we have the infrastructure to eliminate waste and clean running water.
Have I convinced you yet of the importance of preparing for sanitation and waste in an emergency?
Good! Now how do we deal with preparing for sanitation and waste in an emergency? Naturally, you would want to stay in your home, if it is an option. Nevertheless, there are steps you need to take to keep your home habitable.
Admittedly, we are assuming that the home is structurally sound, there is not an immediate need to evacuate, and sheltering-in-place is the way to go.
NO POWER, NO SEWAGE, NO SERVICE
If you lose water or If the sewage system is compromised, your home is at risk. Sewer systems require electricity to function. You can take a few steps to minimize problems with your sewer systems.
So, if you are trying to stay in our home without sewage or water, you must take some precautions.
First, we will walk through what you SHOULD DO and the supplies you need on hand. This will:
Prevent dangerous gases, vermin, and waste from entering home
Prevent your neighborhood from becoming a biohazard by improperly disposing of poop.
Then we will talk about some things you SHOULD NOT do and the common misconceptions about waste disposal.
PREVENT DANGEROUS GASES, VERMIN, AND SEWAGE FROM ENTERING YOUR HOME
One problem that may occur is when there is a long-term water or power outage, the P-traps in your home can dry out.
Every drain in your home has a p-trap that holds water in it. They prevent stinky sewer gases from coming back into your home through the pipe.
STINKY AND DANGEROUS
Those stinky gases are dangerous. The gas is hydrogen sulfide, and it can make you sick.
Mild symptoms from exposure to hydrogen sulfide can include irritation of the eyes, nose, and throat. Higher exposure can cause headache, dizziness, vomiting, and in extreme cases, death.
The gases from the sewer contain methane, which is flammable. You will not be able to stay in your home if these gases are present.
Vermin and insects can also gain access to your home through broken pipes. Not good!
SOLUTIONS FOR A DRIED-OUT P-TRAP AND MINOR SEWAGE BACKUPS
All of the main sewer lines throughout your home have a p-trap under the drain. These include laundry, shower, tubs, sinks, and toilet drains.
You will need to find all the drains in your house and then:
Remove the drain cover and measure the inside of the pipe opening.
Purchase a TEST PLUG or a DRAIN PLUG. This is a steel piece of metal with a rubber gauge that can be purchased at a plumber supply store or home improvement store. Buy enough for every drain.
Before you put the plug in, you may want to add a small amount of water (assuming the p-trap has not yet dried out) to top off the water in the trap, and then add a few ounces of cooking oil. This will help prevent the water from evaporating.
Insert the plugs into the pipe opening. Your bathtub overflow can be sealed with duct tape.
These steps will protect you from deadly fumes, vermin, and minor sewage backups.
Remember, you will not be using your water/sewage system AT ALL. Any water you drain will eventually get backed up somewhere along the line. Any water or sewage you drain will either back up your house or your neighbor's house.
WAIT, WHAT ABOUT THE TOILET?
I am glad you asked!
Yes, the toilet is part of the sewer's main system, so it needs to be plugged.
First, turn off the water at the wall, so you have control over when the water turns back on (when that glorious time comes!).
We do not want to be dealing with putrefied waste. This is when solid and liquid waste is combined. Putrefied waste is a biohazard, and we can prevent this by separating our solid waste from our liquid waste.
EVERYBODY POOPS
Yes, we all poop, and we all want to take care of this bodily function as comfortably (and privately) as possible. Therefore, we want to create a private place for private business.
STEPS TO TURNING YOUR TOILET INTO A DRY POTTY FOR SOLID WASTE
First, we must get all the water out of the toilet. Scoop all the water out of the tank and save it. The tank water is potable and could be filtered, boiled, or used for watering plants.
Next, empty the toilet bowl water.
Clean and disinfect the entire toilet.
Now that the toilet is completely clean and dry, we must plug the hole. We will use a racquet ball or lacrosse ball (based on the size of your toilet opening) because they are made of dense rubber. Don't use a tennis ball or foam ball.
Place the ball in a tube sock (to help remove the ball after the crisis is over).
Grease the sock with the ball inside with Vaseline and shove it into the pipe as far as you can.
Lift up the toilet seat and line the toilet with a garbage bag. DO NOT use a grocery sack. Use a quality trash bag liner that is thicker plastic.
Put the seat back down.
Fill a 2-gallon bucket with an easy-access lid with kitty litter. Place a scoop on top.
THIS DRY TOILET WILL ONLY BE USED FOR SOLID WASTE ONLY
Then, after you go number two…
Anytime someone poops, completely cover the waste with kitty litter. (Kitty litter dries out the waste and helps with odor.)
Toilet paper can be placed in the bag too.
Ensure you have a hand washing station and/or hand sanitizer in the bathroom.
When ready to remove the bag-o-poop, remove it from the toilet and place it in a bin. This will help prevent leaks or breaking the bag as you take it outside.
HOW TO BURY THE POOP BAG
Dried-up waste can be buried safely.
Dig a hole away from the house that is 2.5 feet deep and 2.5 feet wide. We want the hole to be manageable and not too deep to contaminate water sources inadvertently.
Empty contents of bag into hole.
Drop the bag in the hole on top of the waste. The bag will act as a barrier, eventually decomposing.
Add 2-3 inches of material on top of the bag, such as kitty litter, peat moss, sawdust, sand, or dirt.
Cover the hole with a big piece of plywood and put something heavy on top. This will prevent animals from digging or accidentally stepping in the hole.
Repeat this process until the hole is almost full.
Add 4-6 inches of hydrated lime.
Cover with dirt.
Why hydrated lime?
Animals won't want to dig through the lime, and it will also help denature the waste into soil.
CAUTION: Hydrated lime is toxic and you don't want to breathe it in. Use gloves, facemask, and safety goggles.
Store the hydrated lime in a 5-gallon bucket and secure it with a lid. Mark the bucket with "toxic lime" to prevent injuries.
What about diapers and feminine hygiene products?
You will not want to fill up your garbage can (that may not get picked up for some time) with dirty diapers or used feminine products. You will attract animals and create a smelly problem.
Consider switching to non-disposable cloth diapers. Simply scrape the solid waste into the dry toilet bag and wash the diaper.
There is no great or easy solution for feminine products other than non-disposable options. Purchase some reusable pads and keep them with your emergency supplies.
URINE WASTE
Urine is relatively safe and sterile, so we can easily dispose of it.
Set up a 5-gallon bucket with a toilet seat to use just for urine. You will not use a bag for a liner because it will be urine only.
Label the bucket and toilet seat "urine only" so there is no confusion.
Carry bucket outside and dump out. You will want to rotate where you are dumping the urine. Do not dump urine into a garden or near edible plants.
Disinfect and clean the bucket before bringing it back into the house.
Are you thinking, this sounds like a lot of work, I am just going to poop in a hole in the backyard?
Obviously, this is a lot of work and a bit of planning, so let's consider why it is TOTALLY worth it to do it this way.
By the way, this is an extreme circumstance, and nobody will WANT to do this. You know what they say about desperate times, right?
Some common misconceptions and what NOT to do.
These following options are only good for short-term situations (a few days).
PIT LATRINE
A pit latrine is where you dig a hole, potty in it, and kick dirt on it. Many people do this when they are dry camping, and there are no bathroom facilities.
The pit latrine does not translate to a suburban environment for several reasons.
Dry camping is only a few humans in a vast area for a short time.
You would dig a pit latrine far away from where you are camping.
You don't see the animals, vermin, and pests that dig into those pit latrines.
Pit latrines in your yard would attract household pests and disease-carrying vermin.
Putrefied waste is a biohazard.
Pit latrines could cause a sinkhole that can bring in insects. (Think of a pit latrine in your backyard in the summer. Imagine the bugs it will bring in and all the diseases. Not to mention the hot, steamy smell. Gross!)
Not sustainable. How many holes can you dig during a long-term emergency?
CAMP POTTY/BAGS
The first problem, you would need a lot of specialized camp potty bags to last weeks to months. Normal bags don't fit the camp potty and you should never use grocery bags for putrefied waste.
Another issue is what to do with the bags? You cannot throw them in the garbage. Remember, putrefied waste is a biohazard. Your city garbage trucks do not accept biohazards, including putrefied waste.
In this emergency, are garbage trucks still collecting garbage? Are they still able to drive their trucks to your house?
After a large-scale earthquake, roads will be damaged, and garbage trucks will not be able to collect trash for several weeks.
If you think you can just pile up stacks of poop bags in the corner of your yard, you will have a biohazard problem in your community. Piles of putrefied waste will attract vermin and insects even in a bag. If you buried these bags, it could still create a sinkhole and contaminate groundwater.
TRAVEL TRAILER OR RV
Only good short term. The tank will fill up in a matter of days, and unless you have a way to drive your RV to a dump station, you are out of luck. You will also need to consider that even if roads are passable, the dump station may not be functioning.
You absolutely cannot consider dumping your tank into the gutters or large parking area. Again, you would create a biohazard situation for your entire community and cause an outbreak of disease, such as cholera.
STORING WATER FOR FLUSHING TOILETS.
You would need to store lots of water for this because a toilet needs at least a gallon of water per flush.
Likewise, you are also assuming that the sewer is functioning. Suppose everyone is flushing down a sewer system with connection issues or damaged pipes. In that case, you will have sewer backing up.
Gravity-fed systems will go to a lift station. Still, those are powered by electricity, and if backup generators run out of gas, they may stop working. Even if there are no breaks in the line, the sewage will still flow downhill but will back up because the lift systems are not working. The sewage will go somewhere and may flow into other homes or contaminate groundwater.
This is a community problem and needs to be a community solution where everyone does their part not to cause a biohazard problem.
Remember, this all works when everyone in your community is on board, so help spread the word!
HAND WASHING STATIONS
Practicing good sanitation will help keep your family healthy.
Therefore, you will probably want to set up at least three hand washing stations in different locations: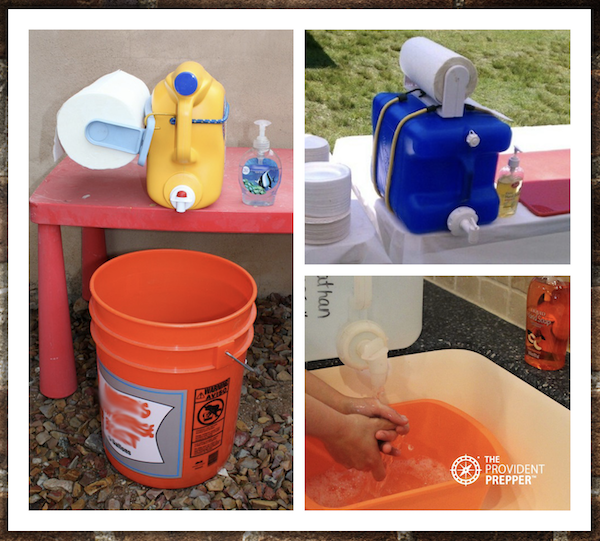 Remember, no running water means no draining water down the sink either. You will have to use catch basins to collect the dirty water.
In addition, you could re-use your laundry soap containers by filling them with water and labeling "wash water" to use for cleaning.
Collapsible sinks from Amazon
Additional Resources and Educational Videos for Preparing for Sanitation and Waste in an Emergency:
Please watch these videos by the First Responder Mom. They are very informative and where we got much of our information.
There are five videos in this series, each about 15 minutes long. They will teach you how and why the sewer and water systems fail in an emergency and what you can do about it.
She has also prepared a PDF printable for Sanitation in a Disaster.
You can find more of her information at www.nowwhatresilience.com
Other Sources:
More Great Information by The Provident Prepper:
You just completed Step 8, congratulations! Now lets get started on Step 9 – Medical Supplies and First-Aid.